Publications
About A Different Kind of Leader
This book offers a wealth of practical insights and guidance to build resilient leadership and robust organisations.
What is the relevance of leaders in a world in which traditional business models are losing ground and innovation is driven more and more by cross functional, self-managed teams? A Different Kind of Leader provides valuable insights for leaders who wish to increase their influence and facilitate ongoing progress in a disruptive, digitalised world. In A Different Kind of Leader the reader becomes involved in reflecting on a range of current-day developments and is prompted to make choices. Learn from lively, practical examples of relevant situations and dilemmas. This book opens doors to a different way of leading and can be used for frequent reference in every phase of leadership. A Different Kind of Leader encapsulates key opportunities for leaders to add value in a different way and in different areas.
"The author, Janet Patricia Poot, has crafted an exceptional book for leaders. It is filled with powerful observations, motivational insights and learnings and should find its place not only in the board room or HR department but also on the desks of colleagues, clients and academia". Quote by Lana van der Spiegel-Breytenbach.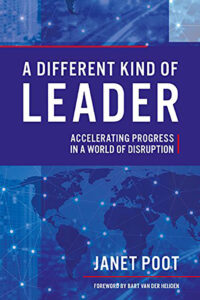 Preface
(Written by Lana Van Der Spiegel – Breytenbach)
Constant innovation across all industries has become the major force determining an organisation's future success. Pressure on business leaders to lead the change necessary in our complex and dynamic world has never been as high as it is today. A different kind of leader is called for – but do we know what this means, and how do we put our understanding of leadership into effective action to successfully achieve our goals?
In A Different Kind of Leader Janet invites us – the leaders of today and tomorrow – to join her on a journey as she navigates us through the eight chapters of her book to, in her own words, '…fast-track progress in your company and position'. The power of the book lies in the fact that Janet bases her deep insights and practical learnings on personal experience and extensive research gained from years of professional practice as a leader, business entrepreneur, and inspiring leadership consultant operating internationally and across all business sectors.
Her book offers a fresh, stimulating, and innovative approach to leadership as she guides the reader through the forces that are transforming the global economy and accelerating industry disruption, calling for organisational transformation and leadership change. She shares her thoughts on the profound economic and social implications of these forces, the complexities relevant to organisations and their leadership, and the urgent need to prepare for transformation and leadership change in a world of disruption.
Janet enables the reader to use models and exercises to explore their own leadership styles, learn how to develop the right leadership qualities, and transition from understanding to effective action to become dynamic and strategic leaders using constructive influence.
The book is filled with valuable ideas on how to prepare for organisational and leadership transition, and to bring about meaningful change in a fast-paced world. The reader is left energised, motivated and prepared to take on the challenges they face. It makes for powerful reading.
Lana Van Der Spiegel-Breytenbach
Lana van der Spiegel-Breytenbach has lived in South Africa and several European countries. She has worked in both the public and the private sector as a lawyer, as a senior diplomat in London and Paris, a specialist in the global intellectual property industry, and more recently as an advisor to large global corporations. She has held senior positions and directorships at South African, Finnish, American and UK multinationals.
About the Author
Janet Poot is an international business coach. She was born in South Africa and continued her education in the Netherlands, where she now lives. In writing A Different Kind of Leader she has drawn on years of experience as a marketing entrepreneur and subsequently as a leadership consultant with a range of multinational clients. Her intercultural leadership experience in different markets, cultures and industries revealed to her that leaders in all geographical areas face similar challenges today. This prompted her to share her insights with a larger audience. She designs leadership programmes, leads workshops in different countries, writes and enjoys speaking to audiences to inspire a new role and approach for leaders.
Foreword
(Written by Bart van Der Heijden, Director at RAI Amsterdam, International Convention Centre)
An excerpt from Bart van der Heijden's foreword:
"A Different Kind of Leader is a real page-turner, with so many teasers that you just want to keep on reading. I was particularly struck by the importance of being role- rather than task-driven, facilitating fluid teams for greater synergy, and one of the biggest eye-openers is the recognisable risk in many organisations of seeking safety in half measures. We see the world around us evolving at a furious speed. New players and generations come unannounced and disrupt the market. They are driven by technological developments and appear to outplay the competition effortlessly. We must stay ahead of this and for this reason we are building an organisation with a new culture and operating model, equipped to capitalise on external developments faster.
We expect to be faced by challenges. Staying ahead does, however, require a different way of thinking and acting. The future of our business is intrinsically linked to working in a data-driven environment: how will we deal with this? Being prepared requires change. We will, therefore, work together in achieving more innovation, a new structure and culture, supported by a leadership team that embraces the essence of A Different Kind of Leader".
Downloads
Tables and diagrams from A Different Kind of Leader can be downloaded here.